The math behind why cafes should have round tables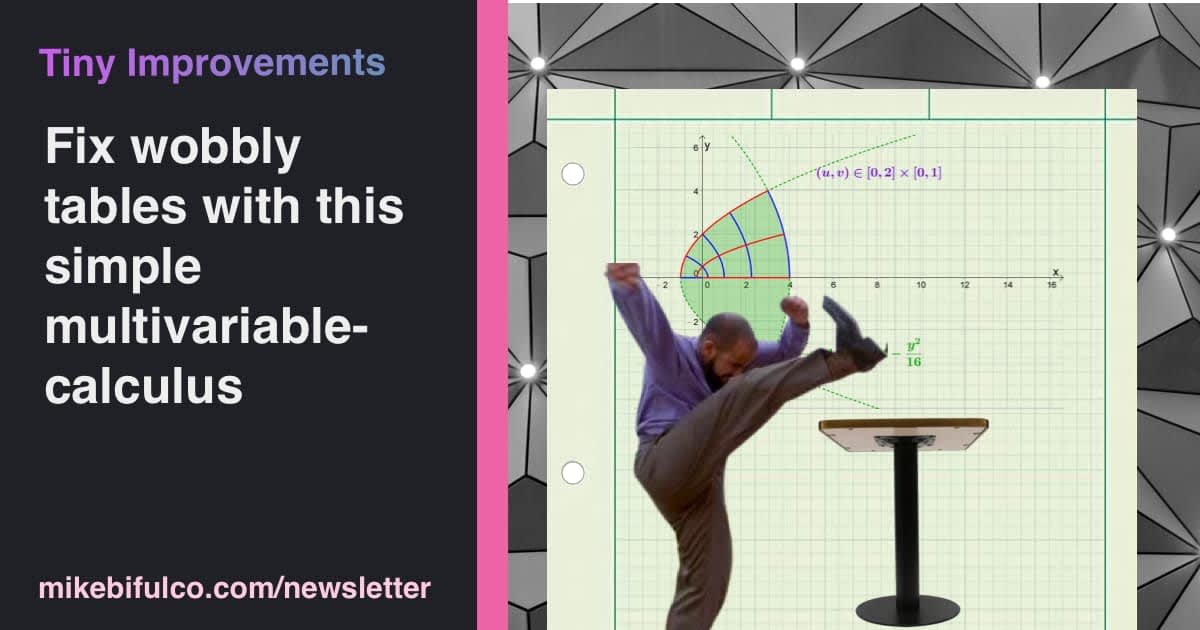 I really love espresso. Great espresso - the kind that makes you savor every sip - is hard to make. It's a delicate balance of temperature, pressure, and grind size. It's a process that requires a lot of skill, practice, and intention, from cultivating and roasting coffee beans to the brewing process. When everything comes together, it a beautiful thing.
I'm also a big fan of cafes. I have spent countless mornings working from some of my favorite coffee shops, and have written many newsletters in the quiet of a cafe. I love the atmosphere - the hum of conversation, the smell of coffee, the sound of the espresso machine. Now that the danger of the pandemic has receded, I especially love seeing all the people - the baristas, the regulars, the people who are just passing through.
So, on a good morning when everything is going right, I'll walk to a nearby cafe and order a shot of espresso. After the barista pulls my shot, I'll find a table, take out my book, or my laptop, or put on a podcast on my phone, and sit down to get my day started.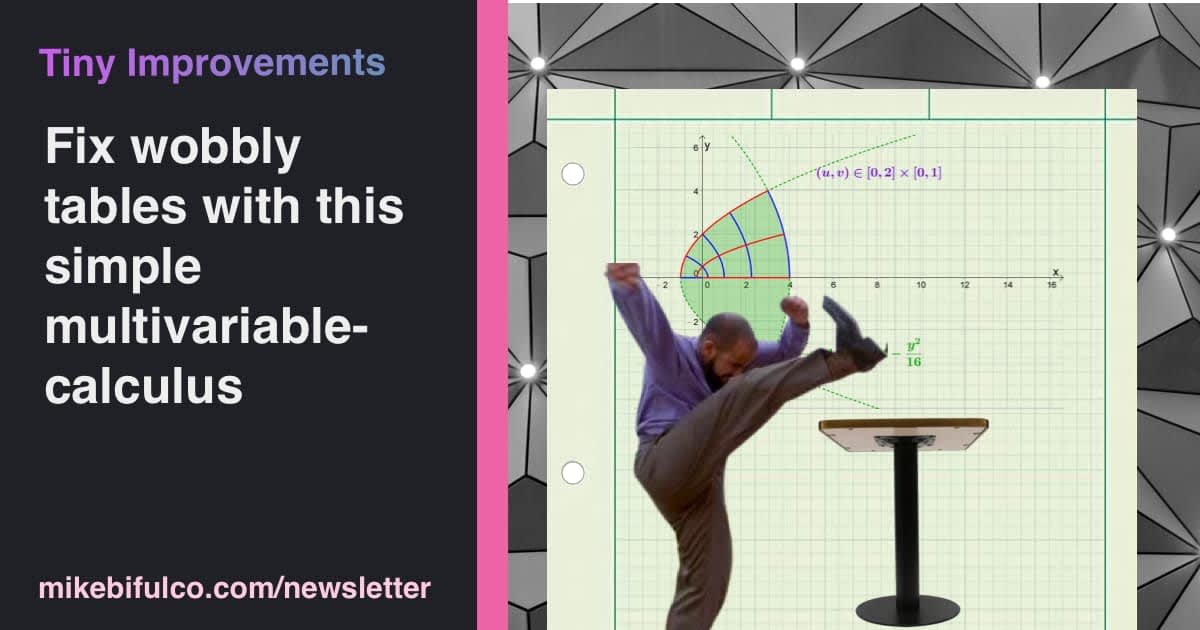 This is the shape of a sublime morning - the kind of day that can be easy to... ah, what the fuck -- is the table unbalanced?
I hate wobbly table.
tap, tap ... tap, tap ... tap, tap ...
Every time you shift your weight, or move your coffee cup, or lean back in your chair, the table wobbles. It's annoying, it's distracting, and some days, it can be enough to ruin an otherwise great morning. It's a flaw that we've all experienced.
The fix for a wobbly table
As it works out, a wobbly table is not something you have to live with. If you look online, there are countless articles telling you "how to fix a wobbly table". You can tighten or brace a loose leg, or add shims to make the legs perfectly level, or take the cro-magnon approach and stack some coasters or napkins under one leg.
However, there is a solution simpler than all of these. A solution so simple that it feels like it shouldn't work. All you have to do is...
...rotate the table a bit.
That's it. Within a quarter turn of rotation, there will be at least one position where the table is perfectly stable.
Seriously - try it yourself the next time you sit down at a wobbly table.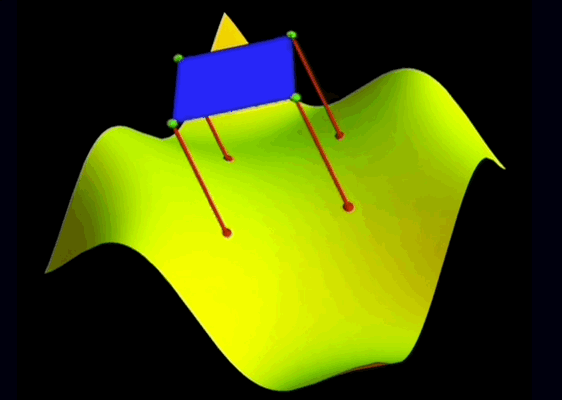 The explanation for this comes from branch of mathematics called topology -- it is helpfully called the Wobbly Table Theorem, and essentially relies on the fact that the surface you're sitting on is reasonably continuous.
The best visual explanation I've seen for this is a fantastic explainer video from the channel Numberphile: Fix a Wobbly Table (with Math). If you prefer dense, nitty-gritty mathematics, you can read this rigorous mathematical proof, or a slightly more accessible explanation from a Harvard Mathematics professor.
Your cafe should have round tables
The solution above will work for any shape of table - round, square, L-shaped, kidney shaped, you name it. However, I'd imagine that most cafe owners want to keep their shop looking orderly, and having a bunch of tables that are rotated at different angles would probably look a bit messy.
So - if you find yourself designing a cafe, or a restaurant, or a coffee shop, round tables are the way to go. They'll look nice and orderly no matter how much they need to be rotated, and they'll be stable and pleasant to sit at.
It's the kind of beautiful design victory that nobody will notice, and everyone will appreciate.
An over-caffeinated list of links you might appreciate