Your portfolio is a timeline of your growth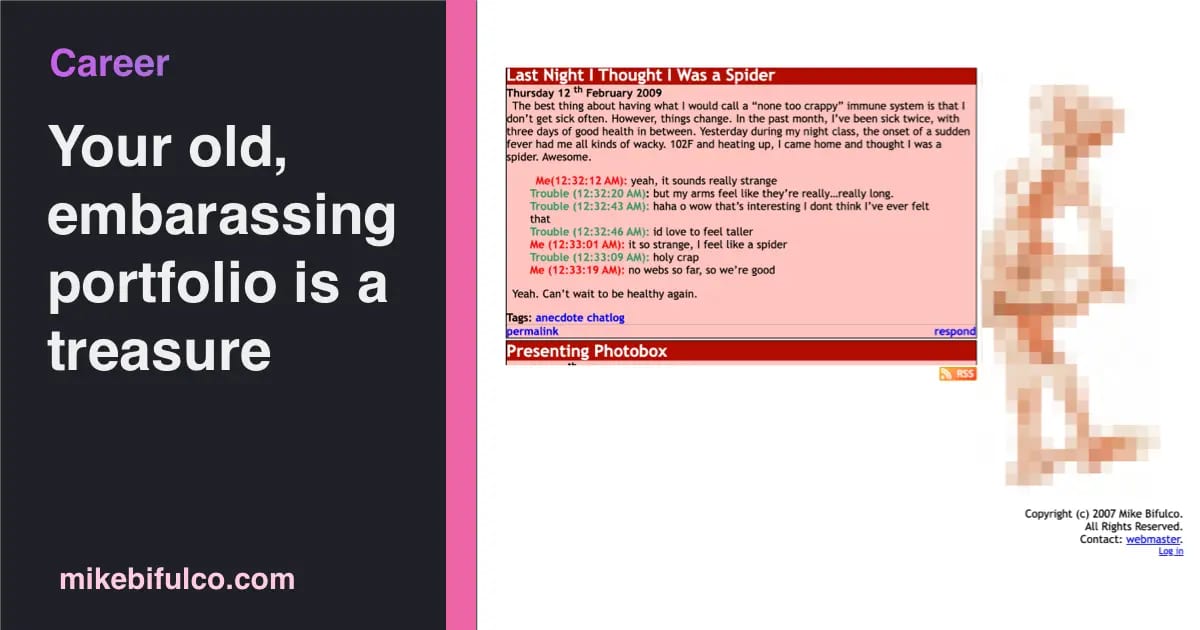 At some point in your life, you will look back on the work you did when you were just getting started with a new skill, and see everything you did wrong. You'll see the mistakes you made, the things you didn't know, and the things you didn't even know you didn't know.
You may have felt this already. Maybe it's that design project from high school or university or bootcamp, or the first website you ever made. I think we all have a tendency to see our old work as embarrassing.
I'd like to offer up an alternative perspective.
You've come a long, long way. We all have. Looking back on your portfolio and seeing how far you've come is a great way to to see how much you've grown, which is a process that can be imperceptible day-to-day.
It's the reason I called this newsletter Tiny Improvements. Focus on being an incrementally better version of yourself every day, and those tiny improvements will add up to something incredible over time.
Your homework this week: Look back at your past-you; find some examples of your oldest work, and think about how you've grown. If you're feeling brave, reply to this message with a link to your oldest work, and your thoughts on it today, and I'll share mine too.
Where I've been learning lately
🌳 Unheard Roots is a wonderful newsletter that I've come upon recently. They share stories & strategies about game-changing startups that you may not have heard of before. I really enjoyed their post about Reddit.

📈 Growth.design is a fantastic collection of extremely well-illustrated UX case studies from products we've all used. It's super interesting to see them detail dark patterns, like Adobe's Offboarding process -- where customer satisfaction is sacrificed for the sake of revenue.

📼 Theo - t3dotdogg on YouTube has been making some insanely insightful videos on building companies and products with TypeScript in 2023. I have found his videos to be extremely helpful while building my new startup.
Some things I've made, just for you
👾 Over at APIs You Won't Hate, we just dropped a new newsletter: Laravel is Harmful. If you're into building or using APIs, you're gonna love APIs You Won't Hate. Consider subscribing - our newsletter goes out twice a month.

🎨 We just launched a shiny new estimate generator for interior painting projects over at Craftwork. It's a simple-looking wizard, and building it exemplifies one of the most important lessons I've learned in my career: simple is hard. We'll be iterating on this tool quickly over the next few weeks, so if you have any feedback, we would love to hear it.
And that's it for me this week. It turns out building a startup, publishing this newsletter, and maintaining a dev community is a lot to balance - but I'm loving every minute of it. Thanks so much for reading. Keep doing your thing - I'm proud of you.