Acquired: Costco podcast summaries, generated using a GPT/LLM tool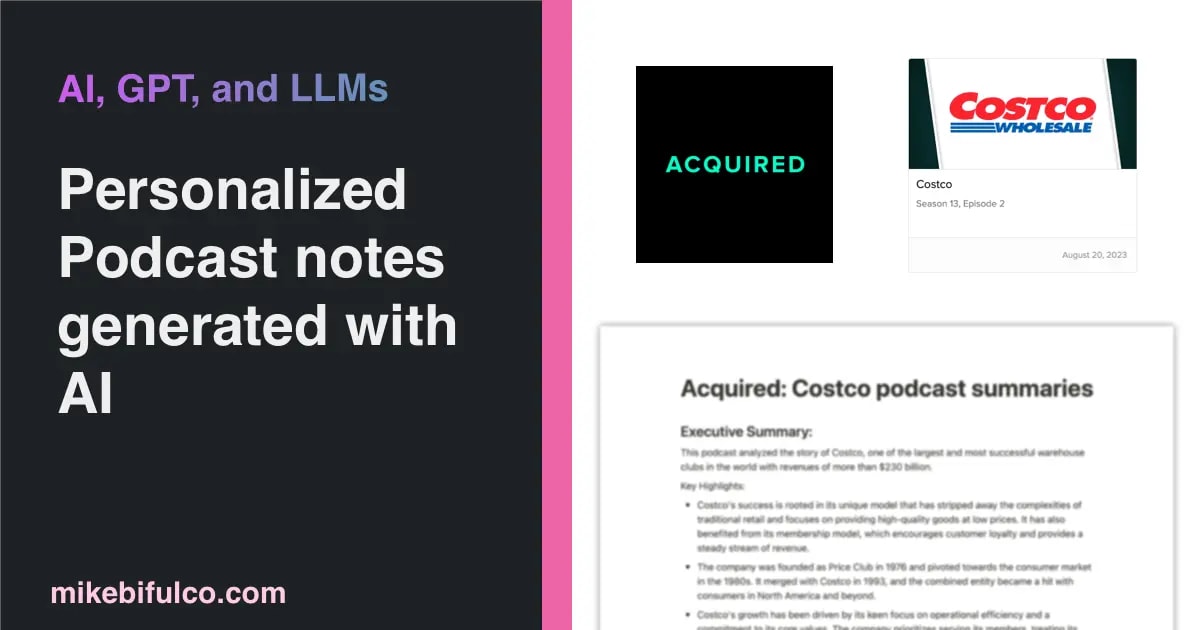 What is this thing?
The podcast Acquired has a fantastic episode on the history of Costco's business. It's a tremendous episode, and you should add it to your queue... but it's also 3 hours long. After lisrtening to it, I wanted to talk about the episode with my teammates. Knowing they all wouldn't likely have the the time to listen to the whole show, I built a tool with OpenAI's Whisper API and GPT4 to summarize the show for them
This post is a sample summary of the episode for a few different personas, generated by LLM tools that I cobbled together. I wrote a bit about it in an issue of my newsletter Tiny Improvements, called
Executive Summary:
This podcast analyzed the story of Costco, one of the largest and most successful warehouse clubs in the world with revenues of more than $230 billion.
Key Highlights:
Costco's success is rooted in its unique model that has stripped away the complexities of traditional retail and focuses on providing high-quality goods at low prices. It has also benefited from its membership model, which encourages customer loyalty and provides a steady stream of revenue.
The company was founded as Price Club in 1976 and pivoted towards the consumer market in the 1980s. It merged with Costco in 1993, and the combined entity became a hit with consumers in North America and beyond.
Costco's growth has been driven by its keen focus on operational efficiency and a commitment to its core values. The company prioritizes serving its members, treating its employees well, being honest in its business practices, and rewarding its investors.
The company continually looks for ways to keep operating costs low and pass the savings on to customers. This has led to Costco's successful strategy of having a limited number of products (SKUs), allowing the company to negotiate better deals with suppliers and streamlining operations.
Costco's approach to growing its business has been defined by discipline and long-term vision. The company emphasizes incremental improvements and sustainability over explosive growth, and this has allowed Costco to steadily increase its market share without compromising on its core principles.
Points for a Technical Executive (CTO):
Costco has embraced technology to streamline operations, improve efficiency and support its growth. Most notably, the company has invested in warehouse automation technologies to reduce costs and improve efficiency.
However, Costco's approach to e-commerce has been slower than other retailers, reflecting the company's emphasis on its brick-and-mortar operations.
Points for an Operations Executive (COO):
Costco's operational efficiency is central to its business model, with the company continually looking for ways to reduce costs and pass the savings on to customers.
The company's decision to limit the number of products (SKUs) it sells has allowed it to streamline operations and negotiate better deals with suppliers.
Costco's emphasis on retaining employees and promoting from within is also key to its success, helping to ensure consistent service and build a strong company culture.
Points for a Growth Executive (CBO):
Costco's growth has been driven by its unique membership model, opening of new stores domestically and internationally, and the introduction of new product categories.
Even as it expands, the company has remained committed to its core business model of selling high-quality goods at low prices.
Costco's decision to limit the number of SKUs it sells, and thus avoid the 'paradox of choice', has also helped to drive customer loyalty and repeat purchases.
Related Reading or Listening:
'Made in America' by Sam Walton
'The Everything Store: Jeff Bezos and the Age of Amazon' by Brad Stone
'The Costco Craze: Inside the Warehouse Giant' documentary by CNBC.
'Margin of Safety' by Seth Klarman.